SUNeVision has launched its seventh data center, the Mega Gateway, in Tsuen Wan, Hong Kong.
The hyperscale data center is carrier and cloud-neutral and is a part of SUNeVision's Mega Campus.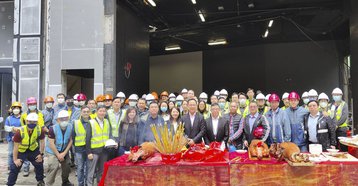 The latest addition to the campus, housed at 1 Ma Kok Street, Tsuen Wan, Hong Kong, covers 200,000 sq ft of floor space (~18,600 sqm) and has a capacity of 20MW.
Raymond Tong, CEO and executive director of SUNeVision, said: 'We are happy to announce the birth of our hyperscale data center Mega Gateway. We are witnessing strong momentum and are proud to expand our data center footprints in Hong Kong.
In the data center announcement, SUNeVision said: "Mega Gateway is built to support mission-critical IT workloads with its future-proof infrastructure. The strategic location in Tsuen Wan, the center of Hong Kong, enables it to serve as a critical pathway to mainland China and the global markets."
The Mega Gateway will be connected to the other data centers on the Mega Campus via the company's 'dark fiber network,' with approximately 15,000 cross-connects. The company suggests it is to be the next connectivity hub, extended from the Mega-i, and will enable Gateway customers to interconnect with a variety of cloud gateways and IT service providers in Mega-i.
Allen Fung, executive director and CEO at the non-property portfolio businesses of Sun Hung Kai properties and vice chairman and executive director of SUNeVision, said: 'At SUNeVision, we carry the spirit of our parent company Sun Hung Kai Properties. We are committed to building superior infrastructure and providing exceptional services with a long-term view.
"We have developed Mega Gateway to supplement Mega-i and provide customers opportunities for expansion and upgrades. SUNeVision aspires to support Hong Kong to further enhance its position as a regional data hub, and this is important for Hong Kong in becoming an international innovation and technology center in line with the National 14th Five-Year Plan.'
SUNeVision is the largest data center provider in Hong Kong, with seven data centers in the region including the Mega-i, Mega Gateway, Mega IDC, Mega Plus, and Mega 2. The company also hosts cable landing stations HKIS-1 and HKIS-2.