Sunbird Software – a former division of Raritan which was spun off as a separate company earlier this year – has launched the fifth iteration of its Data Center Infrastructure Management (DCIM) product.
Sunbird DCIM 5.0 introduces a new tile-based interface, live charts, more automation and an improved mobile app for at-the-rack audits.
"Making data centers smart and data-aware with continuous resource monitoring and built-in analytics is changing how data centers are managed and used," said Herman Chan, president of Sunbird Software.
"Sunbird DCIM enables data center resources to be used more efficiently and to be shifted to meet new and changing business demands."
A new face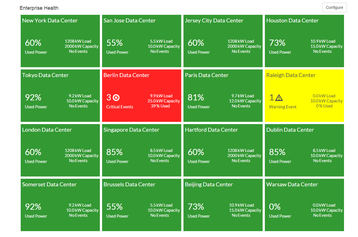 American data center specialist Raritan had three core businesses: power management, remote server management and DCIM – the latter having around 850 customers worldwide.
In June, the company announced it would be spinning off the DCIM business as Sunbird Software, in order to compete more effectively in the growing market. The decision was made by French industrial giant Legrand, which complete its acquisition of Raritan two weeks ago.
DCIM 5.0 is the first independent software release from Sunbird, but it still includes the familiar elements developed by Raritan, like the PowerIQ power monitoring software and dcTrack for operations.
Among the new features is an enterprise dashboard based on color-coded tiles that provide a dynamic view of the entire server fleet on a single screen. Each data center is represented by its own tile and its color is dependent on the health status.
Individual tiles can be drag-and-dropped, and users can drill through various logical layers down to the server level, with details on ports, power connections and energy usage.
There's also a new mobile app which enables IT staff to track assets and initiate requests to install, move, and decommission hardware right from the data center floor.
Live Chart functionality has been added to make it easier to analyze loads, identify stranded power capacity or inspect circuit breaker limits.
And finally, Sunbird DCIM 5.0 introduces a new specialized polling engine optimized for early health alerts, and enhanced import and export functionality to help organize infrastructure data for further analysis.
"As the pressure for 'faster, better, cheaper' services continues in the delivery of IT services, efficient management of data center resources will be a competitive differentiator. Data center managers are turning to DCIM to keep pace and to gain the most from their existing physical data center resources and to reduce costs," said Jennifer Koppy, research director for Datacenter Management at IDC.
"Sunbird's new DCIM release provides real-time monitoring, predictive analytics, and increased automation of tasks – all key to helping enterprises better understand and better manage data center resources."