Japanese cabling specialist Sumitomo Electric Industries has released new ribbon cables with fiber counts of 1152, 1728, and 3456 to meet the increasing demands for high fiber density in data centers.
The 3456 fiber cable has an outer diameter of just 34mm and can support direction-free bending, which means it can be installed in a 2-inch duct space. The pliable ribbon technology allows a 12-fiber ribbon to be spliced with a conventional 12-fiber mass fusion splicer.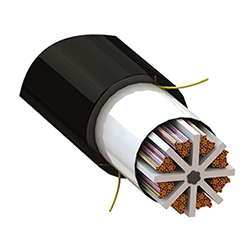 As easy as 3, 4, 5, 6
The cables are available in two variations, one with a steel strength member and the other with an all-dielectric strength member in the center of the cable.
The cables come with a dry water-blocking tape that requires no cable flooding gels, something that Sumitomo claims speeds up overall installation, termination, and splicing by getting rid of the usual cleaning and blocking preparation that comes with traditional gel-filled cables.
Sumitomo Electric is set to exhibit the new cables at the DatacenterDynamics Zettastructure event in London on November 1-2.