British data center design and construction specialist Sudlows is set to build a 3MW facility for Gloucester-based colocation provider Indectron.
The data center, codenamed Shield House, will be located near Malvern – an area known as the Cyber Valley, since it hosts a cluster of more than 80 cyber security companies.
"This is an outstanding facility that utilizes the very best energy efficient technology. We are committed to providing the best energy efficient and resilient critical environments and this is reflected in the range of organizations this new facility will serve," said Andy Hirst, technical director at Sudlows.
New kid on the block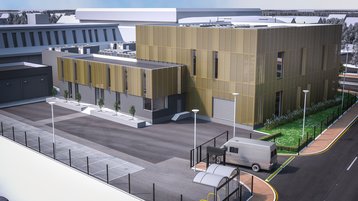 Indectron is a young company that aims to offer server hosting with an emphasis on security. Its first data center – Shield House – is located in Gloucester, with convenient access to both high-speed fiber routes and major highways.
The facility will consist of three data halls, offering enough space to host up to 500 colocation racks. It will support high density computing and feature diverse power feeds from two primary substations.
Shield House promises PUE of less than 1.2 and is expected to receive a Tier III certificate from the Uptime Institute, testifying to its advanced resiliency features.
"Sudlows impressed the team here at Indectron and won our tender because they went above and beyond the requirements of the tender process." said Andrew Bence, managing director at Indectron.
"The team at Sudlows provided several viable alternative options with substantive vendor assessment and rigorous technology selection that demonstrated outstanding value-add to the new facility and to our current and future customers."
The Shield House data center is expected to open in late 2017.