Subzero Engineering has launched a flat-packed modular data center that can be shipped quickly and customized to users' requirements - freeing them from inflexible single-vendor solutions.
The Essential Micro Data Center is vendor agnostic, letting users choose from many options to construct a small data center that is shipped as a modular room, for deployment on-premise. It can be shipped in as little as 36 hours, and be up and running in four to six weeks, said Subzero, claiming the product can also provide 20 to 30 percent cost savings over other available options. It is available in the US, UK, and Europe.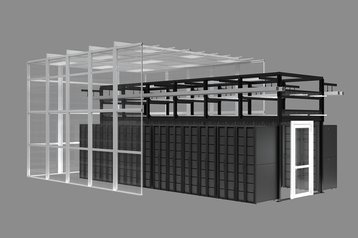 Flexible space
The product is a small-footprint, on-premises data center, built for distributed and remote infrastructure environments, and intended for colocation, 5G, retail, enterprise, and industrial applications.
It is based on Subzero's Essential Series and AisleFrame product lines and includes white-glove installation and support, power, cooling, infrastructure conveyance, and containment.
The data center is housed in a pre-fabricated, factory-assembled, modular room which ships flat packed. The room is physically secure and contains critical power and cooling infrastructure.
Within the room Subzero's AisleFrame structure can support a variety of load requirements and includes built-in, customizable containment, integrated with self-supporting ceiling modules and insert panels available in multiple materials.
The system can include ladder racking, busway, fiber trays, and infrastructure as required, and supports hot or cold aisle applications, with multiple cooling methods. To do this, it has a high-strength ceiling that can hold systems including overhead computer room air conditioning (CRAC) units. This means users can choose aisle, row, or rack cooling configurations.
Customers are not tied to any vendor's options, but can custom-specify their own choice and combination of power and cooling infrastructure. Subzero said this avoids an inflexible single-vendor approach that can prove limiting in the confines of a containerized system while allowing the user to standardize and get the benefits of scale.
"The Essential Micro Data Center's flexible design makes it a perfect fit for customers searching for an alternative to the obstinate and expensive, pre-integrated solutions currently available," said Sam Prudhomme, vice president of sales and marketing, Subzero Engineering. "Our vendor-agnostic approach to component specification, combined with rapid speed of and installation and lower TCO, ensures customers can truly define and scale the edge on their own terms."