ST Telemedia Global Data Centres (STT GDC) has completed construction work on a data center outside Jakarta, its first in Indonesia.
First announced in May 2021, the company this week announced the topping off of STT Jakarta 1. Located in Bekasi Regency, close to Jakarta's eastern border, the TIA-942 Rated-3 facility has a Gross Floor Area (GFA) of 18,000 square meters (193750 sq ft).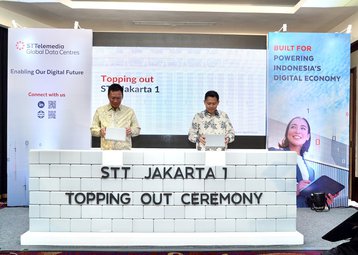 The new facility is the first building of a data center campus developed under a joint venture with leading Indonesian conglomerate Triputra Group and global investment company Temasek (which owns STT GDC).
Once completed, the campus will support up to 72MW of capacity, with STT Jakarta 1 supporting up to 19.5MW when operational in Q2 2023. STT GDC's local unit, PT STT GDC Indonesia, has already agreed a land contract to build a second data center at the campus.
"This milestone marks our strategic entry into the Indonesian data center market and is an important step for STT GDC to reinforce our position as a leading data center player in Asia Pacific," said Lionel Yeo, chief executive officer, Southeast Asia, STT GDC. "I am confident that our expertise in designing, building, and operating data centers in Asia's largest and most complex markets can serve the needs of Indonesia's vibrant digital economy and accelerate the digitalization of Southeast Asia's largest Internet economy."
STT GDC Indonesia also signed an MoU with local telco PT Mora Telematika Indonesia (Moratelindo); Moratelindo will set up a point-of-presence (PoP) in STT Jakarta 1.
Hendrikus Hendra Gozali, country head, Indonesia, PT STT GDC Indonesia, said: "As a carrier-neutral data center, STT Jakarta 1 will continue to draw more telecommunications network providers like Moratelindo into the facility to support the needs of both local and international customers. We are optimistic that Indonesia's digital economic growth will spur businesses to digitalize further to meet the burgeoning consumer digital demand."
Triputra is an Indonesian conglomerate with interests in agribusiness, manufacturing, mining, and trade, which now wants to get into the data center sector.