ST Telemedia Global Data Centres (STT GDC) today announced that it has commenced construction of its Defu 2 data center in Singapore, which is located adjacent to the existing STT Defu facility. This will be the company's sixth data center in Singapore, and construction is expected to be completed in the second half of 2018.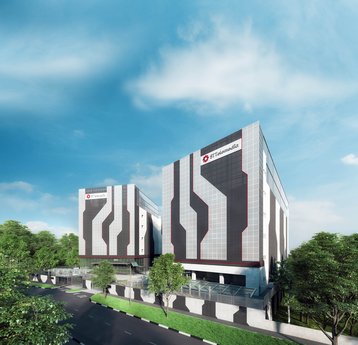 STT Defu 2 will be a five-story facility with a total floor space of more than 150,000 sq ft, built in compliance with a variety of standards such as BCA-IMDA Green Mark Platinum and the Monetary Authority of Singapore's (MAS) TVRA. It will also be interconnected to STT GDC's other properties in Singapore to give customers the option of leveraging its network connectivity.
Singapore growth
We first reported on news of STT Defu 2 in July, when Bruno Lopez, CEO of STT GDC told Singapore broadsheet The Straits Times that a second data center on the Defu campus will be completed by 2018. The announcement today pegs a name and technical specifications to the new facility.
"Over the past three years, we have expanded our data center platform rapidly and established ourselves as a leading player in the data center industry. The advent of STT Defu 2 will serve to further cement our position in the industry and we look forward to starting operations in it," Lopez said.
"STT Defu 2 is designed to meet the most critical infrastructure needs of cloud, telco, IT and financial services industries. We are confident that this expansion will enable us to effectively meet our customers' evolving business needs, and help them scale up their deployment requirements easily and quickly – both essential factors for success in our increasingly digitized world."
Adjacent data centers are fast becoming the norm in Singapore: Equinix's SG3 that opened in 2015 is the next block from its existing SG1 data center at Ayer Rajah Crescent, while Google's second – and larger, multi-story data center was built next to the first in Jurong West.