Major cloud commerce firms including Stripe have committed to buy $925 million of permanent carbon capture before 2030.
Frontier, set up by Stripe, Shopify, and McKinsey, along with Facebook parent Meta and Google's parent Alphabet, is an "advance market commitment" (AMC), which promises to buy carbon removal and storage. The move offers a guaranteed market, which will encourage entrepreneurs and help to accelerate the development and sale of carbon removal services, speeding efforts to take carbon dioxide out of the atmosphere.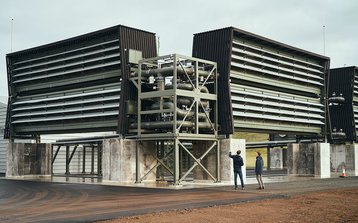 Stripe and Shopify customers can also contribute, through clickable options called Stripe Climate and the Shopify Sustainability Fund.
Money upfront
The first AMC started in 2007, when five countries and the Bill and Melinda Gates Foundation put up $1.5 billion to develop pneumococcal vaccines and guarantee their supply to low-income countries. The vaccines are now being delivered and have saved an estimated 700,000 lives.
Frontier has a much smaller sum of money, to tackle an arguably greater problem. The atmosphere already has unsustainable levels of carbon dioxide, and 40 billion tons more is added each year. Despite efforts to reduce carbon, it's still being produced at an increasing rate, and experts believe we must ramp up to removing five to 10 billion tons per year. So far, commercial carbon removal services can only achieve a microscopic fraction of this.
"To date, less than 10 thousand tons of CO2 have been permanently removed from the atmosphere — one million times short of the scale needed," commented a group of experts, including Stanford professor Susan Athey, and Chicago professor Rachel Glennerster, in an article published by Politico.
For instance, Climeworks opened the first commercial direct air carbon dioxide capture and storage system (CCS) in Iceland, in September last year. The $15 million Orca plant can capture 4,000 tons of CO2 per year, pumping it deep underground and mineralizing it for long-term storage. The service costs around $1,200 per ton of CO2 removed.
Fronter will be led by Stripe's head of climate Nan Ransohoff, and will have a team of technical and commercial experts who will buy carbon removal services from emerging companies on behalf of buyers. New buyers will be invited to join over time, the group says.
The group does not yet know how much carbon removal its pot of money can buy, as the technologies are evolving.
"While the market dynamics of carbon removal and vaccines are not identical, they face similar challenges: uncertainty about long-term demand and unproven technologies," says the Frontier site. "AMCs have the power to send a strong and immediate demand signal without picking winning technologies at the start."
Frontier will look for technologies that are permanent, storing carbon for more than 1,000 years, and which do not need vast tracts of land. They will also look for a possible path to making them affordable, potentially bringing the price down to less than $100 per ton, and scaling to a big capacity, looking for projects which can eventually reach more than 0.5 gigatons per year.
Obviously, projects have to be net negative - they mustn't require large amounts of fossil powered energy that would cancel out their benefit, and they have to be genuinely "additional", meaning they don't take credit for removal that would already take place anyway.
Technologies also have to be safe. legal and scientifically verifiable.
Last year, Shopify became the first paying customer of direct air capture (DAC) company Carbon Engineering, in a deal to remove 10,000 tons of carbon from the atmosphere. The removal will be undertaken by CE's plant development partner, 1PointFive, at CE's first industrial-scale facility. That site is due to be completed in 2024.
In March 2021, Microsoft signed a Memorandum of Understanding with Danish power company Ørsted and startup Aker Carbon Capture to help remove CO2 via carbon capture technology.