Dallas-based colocation provider Stream Data Centers has broken ground on a 145,000 sq ft (13,470 sq m) facility in Plano, Texas, expecting to complete the project by October.
DFW-VI, which could be eventually expanded to 265,000 sq ft (24,619 sq m), is located on 16 acres of the Legacy Business Park. It will secure data center tax incentives from the State of Texas.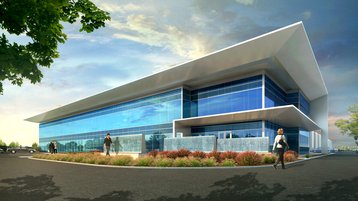 Streaming in Texas
"The North Texas market continues to attract corporate data center users and cloud providers looking for large blocks of space in a safe location with access to superior connectivity and reliable power," Rob Kennedy, co-managing partner of Stream Data Centers, said.
"This data center will provide enterprise users and large-scale cloud providers with an attractive wholesale option in one of the fastest-growing markets in the country."
The location is powered by two 20 MW utility feeds from two separate substations, and there's potential for a third utility feed for expansion. The data center will offer four diverse fiber routes.
Stream's tenth facility in Texas, DFW-VI is the company's second project at the Legacy Business Park after DFW-III, a 150,000 sq ft (13,935 sq m) data center now owned by Research in Motion, the Canadian tech firm best known for the Blackberry product line.