Stratospheric Platforms (SPL) is partnering up with aircraft manufacturer Britten-Norman for its UK high-altitude 5G trials.
The company is currently trialing using High Altitude Pseudo Satellites to provide 5G in remote areas of the UK, alongside BT.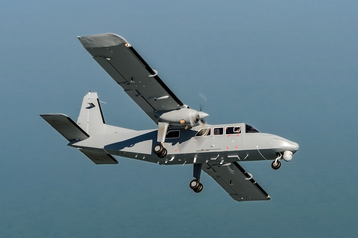 While the first stage of trials will see SPL's phased array antenna technology, known as StratoMast, placed on the roof of a tall building to simulate the high altitude, it seems that the next stage will take to the skies.
In a LinkedIn post, SPL said: "Airborne test platform nominated. We are excited to be working with Britten-Norman on this major stage of our project. Flight trials are a key milestone in our mission to provide 5G connectivity from the stratosphere."
Britten-Norman is a UK-based aircraft manufacturer and will be providing SPL with an Islander BN2T-4S as a test platform.
The trials are being funded by Innovate UK and, eventually, hope to see SPL's antenna mounted onto a HAPS aircraft and able to provide sustainable 4G and 5G connectivity across areas as big as 15,000 sq km. It has not yet been disclosed when we can expect the trials to take place, though they will be conducted at BT's R&D headquarters in Adastral Park in Suffolk, England.
In March 2022, SPL successfully conducted a HAPS 5G trial in Saudi Arabia. The aircraft flew at 45,000 ft and was able to connect to a smartphone.
Cambridge-based Stratospheric Platforms Limited was founded in 2014, with Deutsche Telekom became a major investor in 2016.