StratCap has snapped up essential digital infrastructure assets worth nearly $90 million, including 13 cell towers and a data center.
The company announced the acquisition during its recent Q2 earnings.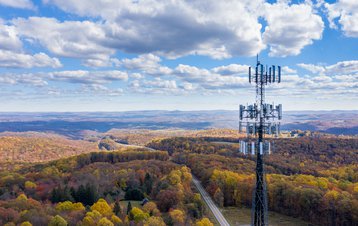 StratCap's acquisition of the cell towers includes both individual and portfolio transactions with towers located throughout Missouri, Wisconsin, Florida, Tennessee, and New York.
The global investment firm revealed that the primary tenants on the towers include the three major broadband carriers, AT&T, Verizon, and T-Mobile, plus Dish, Wisconsin Electric Power Company, Wisconsin Power & Light, and an AT&T affiliate that supports AT&T's First Net Network, which is dedicated to first responders (police, fire, rescue, etc.).
"The ongoing deployment of 5G networks and continuous increases in mobile data usage are catalyzing both growth and investor appetite in what we believe is a very resilient sector," said Todd Rowley, head of StratCap's Wireless Infrastructure Platform.
As reported by DCD several weeks earlier, StratCap has also acquired a 127,000-square-foot data center in Toronto, Canada, as part of a JV with investment firm Grain Management to acquire 55 Hereford Street in Brampton, Ontario.
The facility, built in 2013 and located west of Toronto, is a 127,000 square foot (11,800 sqm), Tier III data center currently offering 10MVA of utility power, with plans to increase the capacity to 27MVA.
The site was formerly an enterprise facility operated by Canadian food retailer Loblaw Companies Limited. The facility is adjacent to a Loblaw office building. The company has an Uptime Certificate for a Tier III facility in Brampton.
At the time of construction, the site was owned by Canadian REIT Choice Properties, which was founded by Loblaw to hold its real estate assets. Loblaw is a Google Cloud customer. It's unclear if the property was acquired from Choice or if Loblaw has completely exited the facility.
"This is a mission-critical facility that plays a vital role in the digital economy. We are excited to align ourselves with a valued institutional partner to participate in such a dynamic asset with in-place rental income, exceptional tenants, and a value-add growth opportunity through potential expansion," added Bryan Marsh, head of StratCap's global data center platform.
More in The Investment & Markets Channel