Stellium, a new endeavor by data center veteran Noel Meaney, has announced plans for a data center business occupying three buildings in the Cobalt Business Park in Newcastle, with impressive new fiber connectivity.
The campus, originally constructed by Highbridge as the Cobalt Data Center has a potential for up to 80MW of power. The first building is operational, with room for four 2MW halls, one of which is now live. The buildings consitute one of the UK's largest data center campuses, and add IT resources to a UK area which already has high technical skills, according to Stellium CEO Noel Meaney, who formerly ran euNetworks until 2010, and the Irish data center firm Citadel100 which he sold in 2014.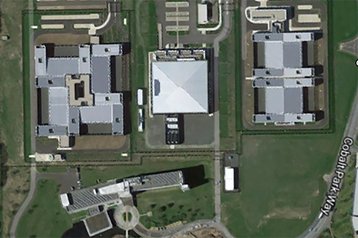 New Tyneside fiber 
"The network we have built is not just to service our business; it will serve the local area," Meaney told DCD. "Newcastle didn't have great connectivity, so we've added a new 40km network and long haul carrier connections." The multi-duct network is apparently the first of its kind in Newcastle.
Stellium brings together experts from euNetworks and Citadel, and the carrier neutral site has a telco room that will have PoPs to four international carriers, he told us. 
Stellium 1 (central in the satellite image) has 4,250 sq m of space in four halls, one of which is "completely finished and ready for operation," said Meaney.  
Eventually, the plan is for Stellium 1 to hold cloud providers, while Stellium 2 and 3 on either side will be for hosting and colocation. 
A real buzz
"Newcastle is a tremendously  successful growing IT hub, with a University campus, 65,000 students, and many IT grads coming along." said Meaney. "There's a real buzz."
Stellium plans to support emerging technology businesses in the North East of the England, and provide an alternative location for the tech in the British Isles. thanks to its connectivity: "Latency in Newcastle is better than Dublin."
The site has up to 80MW of power available from two substations, and the buildings have been granted BREEAM standards, and won a BREEAM green data center award. Stellium's marketing material promises a power usage effectiveness (PUE) of 1.16 and "Tier III+" performance but, both figures are based on trust to some extent.
Like most UK data centers Stellium 1 is not certified by Uptime Institute, but designed to established principles, and marketed with a service level agreement (SLA). "Our SLA is what we stand behind, that is what makes the business work," said Meaney. The actual delivered PUE will obviously vary according to the occupancy of the halls in the building, but the building will be able to use free cooling in Newcastle's cool climate, and its energy efficiency has been mapped out over its lifecycle, said Meaney.
Investors in Cobalt include Wayne Rooney.