Located on 42 very green acres outside of Princeton, NJ, the Steel Orca data center is about to welcome its first commercial customers.
The almost 400,000 sq ft (37,000 sq m) building, originally designed as a live animal testing facility for a major pharmaceutical company, will make available a complete suite of disaster recovery office space, presentation facilities, a university back data center efficiency research center, and a DC power lab, in addition to over 300,000 sq ft (28,000 sq m) of white space available for customer build out that currently represents space for 12,000 racks.
Welcome to the West Wing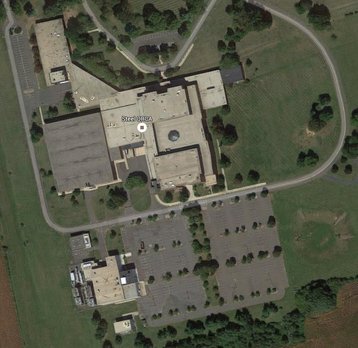 The first stage of the build out, a unit of the facility called the west wing, is a flexible space that can expand to 25,000 sq ft, with the first customers commissioning 120 cabinets. These Rittal cabinets, 4 ft deep and 42 U tall, are installed in rows of 10, with 4 ft aisles and an innovative LED lighting system that provides an easily accessible and well illuminated workspace for IT workers in the facility. The multi-level security also includes Salto's wireless lock systems on each individual rack door.
While the space is a raised floor design, power is delivered using the Starline Track Busway, a system of overhead track power that resembles a 1970s-era track lighting system designed for a giant. Each aisle gets a bus on either side that can deliver AC, DC, or a mix of both power types to the racks. The dual busses are fed separately to provide power redundancy at the rack level. Steel Orca's first commissioning customers have opted for AC-only, but the company is in discussion with additional customers interested in the DC power option. Power delivery is configured for 4kW per rack, with the initial stages of the facility having 5 MW available. Additional power, in the 45 MW range, will be available as needed.
DC power figures prominently in Steel Orca's future plans - as demonstrated by an on-site DC power test and demonstration lab set up with Emerson. This space showcases DC power options ranging from rack and row PDUs to step–down transformers powering data hall lighting, all drawing from standard 380V DC power supplies. Steel Orca is also partnering with local universities to develop 10,000 sq ft of research space dedicated to developing more efficient data center operations, though build out for this space within their facility has not yet started.
The data center site itself is situated at the midpoint between Downtown Manhattan (NYC), and Center City Philadelphia, 40 miles from each, along one of the most carrier dense sections of the northeastern United States. With 15 major carriers running along this corridor, Steel Orca also hopes to position itself as the largest carrier hotel in New Jersey - and also as the disaster recovery site for those two major cities, being able to offer on-site facilities for business continuity operations. The entire 42 acre site is fenced, with point of entry security, and the ability to be configured for on-site power generation, with the availability of a major utility natural gas pipeline. The backup power generation is paired diesel generators at this point with plans to expand in a modular fashion as additional capacity is needed.
Also this week, Steel Orca announced it will use the Avaya SDN fabric as the backbone for the facility, allowing the implementation of Software Defined Data center (SDDC) technologies. The plan is to install backbone switches now while rolling out the complete Avaya SDN Fx infrastructure later this year. Additionally, plans were announced to add Zadara Enterprise Sorage as a Service, to customer offerings, using the Virtual Private Storage Array platform to deliver a Steel Orca storage as a service offering.