A survey of state CIOs by the non-profit group, National Association of State Chief Information Officers (NASCIO), has established that the US government data center consolidation program is making steady progress.
The survey was based on NASCIO's own criteria, which considers the requirements to be fulfilled by a state if it has met its own targets and managed to significantly reduce its IT footprint. The survey found that out of 50 states, 23 considered their consolidation efforts to be complete, 21 were still in the process of consolidating their facilities, and six had yet to start. 
We're doing great, promise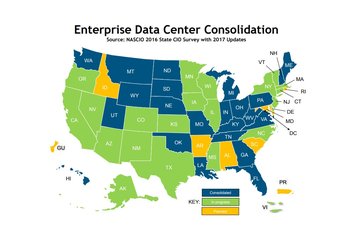 Consolidation can be achieved through various means, which include the centralization of IT infrastructure, virtualization and outsourcing services. The purpose of the initiative is to reduce public spending by investing in modern IT equipment (to save on maintenance costs) and in energy efficient equipment (to save on energy costs).
Other advantages can include better security, improved support, maintenance and upgrades, and disaster recovery.
However, as agencies' slow progress in their efforts testifies, this is easier said than done: delays are attributed to "workforce resistance to change" and "agencies wanting to remain autonomous," but also to the difficulties posed by moving localized devices away from their customer bases, or reluctance caused by unsatisfactory results and higher, rather than lower, costs.
On a federal level, as of September, recorded success levels were significantly lower: out of 24 agencies bound by the Data Center Optimization Initiative (DCOI), five have met some of the targets and 17 don't expect to reach their targets by October 2018, as mandated by the Obama administration's Federal IT Acquisition Reform Act (FITARA).
US senators have since put forward a bill proposing to extend this deadline to 2020.