Singaporean telco StarHub will offer data center services from AirTrunk's upcoming campus in Loyang by mid-2020.
The 'StarHub Data Centre @ Loyang' facility will be located within AirTrunk SGP1, a 60MW greenfield data center campus with four buildings, each five-stories. The facility is understood to be cooled by Indirect Evaporative Cooling (IEC) with no raised floors and will support up to 24kW per rack using default cooling systems.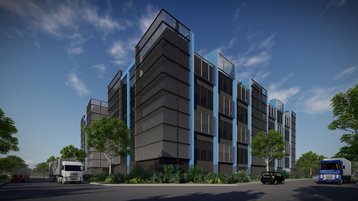 Loyang expands
The AirTrunk SGP1 campus will meet the requirements for the BCA Green Mark Platinum with a power usage effectiveness (PUE) as low as 1.3. As with all new data centers in Singapore, it is designed to meet the Threat and Vulnerability Risk Assessment (TVRA) standards set by the Monetary Authority of Singapore (MAS) for Singapore-based financial institutions.
"We are excited that through our partnership with AirTrunk, the benefits of the hyperscale data center campus will be made available to our corporate customers, including optimizing energy efficiency to lower their operational cost and reducing their corporate carbon footprints," Arthur Tang, the head of StarHub's enterprise business group, said.
Michael Juniper, the deputy CEO of AirTrunk, added: "AirTrunk is pleased to welcome StarHub and its customers into our state-of-the-art hyperscale data center in Loyang, Singapore. StarHub will play an important role in AirTrunk's cloud ecosystem, allowing StarHub's customers the ability to directly connect to key public cloud nodes."
Loyang has emerged as another growing cluster of data centers in land-scarce Singapore. Earlier this year, Digital Realty announced a new 50MW data center at Loyang Drive, just down the road from another Digital site. ST Telemedia Global Data Centre's seventh facility at Loyang Way is also scheduled to be completed in mid-2020 and will add 30MW of IT load capacity to the market.