Hyperscale provider Stack Infrastructure has announced plans for a new 32MW data center on its Silicon Valley campus in San Jose.
The 240,000 sq ft (22,300 sq m) data center will be adjacent to an existing facility, and served with power by a deal with utility PG&E which will allow Stack clients to choose renewable energy. The project has been designated an Economic Development priority by both PG&E and the State of California.
Stack 'em high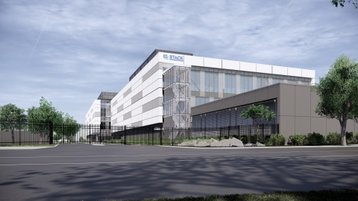 Stack was created at the start of 2019, with much of its funding from Silicon Valley billionaires, and the company says the area is "one of the largest and most critical data center markets in the world, due to its proximity to leading technology and cloud companies."
The company was constructed by its investors Iconiq Capital and IPI, using the wholesale assets of two data center firms, T5 and Infomart. It has buildings in major colocation markets, including Dallas Fort Worth, Atlanta, Chicago, Portland, and Silicon Valley, along with land on which it plans to develop wholesale colocation space quickly.
During 2019, Stack moved into New Albany Ohio, buying a Tier III financial data center along with building land. It has also begun to expand its Portland campus, and announced a new Chicago facility
"As home to a number of the world's leading technology companies, Silicon Valley is undoubtedly one of the most compelling markets in the world for data center investment," said Stack CEO Brian Cox.
While Stack's main focus is on wholescale colocation space, sold in units of 8MW to giant customers, Stack aims to be more flexible than the competition, Cox told DCD in 2019. While the hyperscale market is mostly about making space cheaply and quickly he says that these customers can also have customization, if they understand the cost and time penalty: "You have to be transparent to your customer. That should be the goal of the entire industry."