A subsidiary of tech giant Singapore Technologies Engineering (ST Engineering) has acquired a majority stake in the networking and data center business of SP Telecommunications (SPTel).
Under the terms of deal, Singapore Technologies Electronics (ST Electronics) will receive 51 percent of equity in SPTel from the previous owner, Singapore Power (SP), in exchange for S$54 million. SP will retain a 49 percent stake in the business.
The transaction is subject to regulatory approval, and is expected to close by the second quarter of 2017.
Switcheroo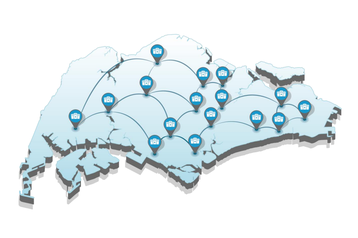 ST Electronics is the electronics arm of ST Engineering, one of the largest publicly listed companies on the Singapore Stock Exchange. Its business spans several market verticals, including colocation.
ST Electronics' latest acquisition, SP Telecommunications, builds and operates communications services in Singapore. It owns an extensive network of fiber optic back-haul infrastructure that links together data centers run by companies like Equinix, Digital Realty, Keppel and Telstra.
The deal will see ST Electronics acquire a majority stake in SP Telecommunications for S$54 million in cash.
ST Electronics says the acquisition is in line with its strategy to build a more comprehensive suite of ICT solutions and services in areas such as Smart City infrastructure.
The deal could be considered an example of Singapore's complex corporate landscape: SP is wholly-owned by Temasek Holdings, a private investment company that also owns a controlling stake in ST Engineering. In a sense, Temasek is selling the company it owns to a company it controls.