SpaceX's satellite Internet service has been impacted by a global outage.
The issue appears to have caused near total downtime for 22 minutes, and users are still reporting some problems.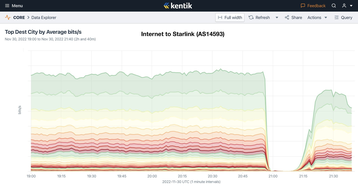 "The SpaceX Starlink satellite Internet service experienced a global outage beginning at 20:56 UTC today," Doug Madory, the director of Internet analysis at network observability company Kentik, said on Twitter.
"According to Kentik NetFlow data, traffic to AS14593 began to return after more than an hour of downtime, but service has not yet fully recovered."
He added: "Perhaps coincidentally(?) there were a lot of changes just published in their geoip feed including a new entry for Mars!!!"
Starlink has yet to disclose the cause of the outage, or acknowledge the incident. It has provided few, if any, details in previous outages.