American software vendor SolarWinds has launched a free tool for network diagnostics, designed with hybrid cloud environments in mind.
Traceroute NG is a replacement for Traceroute, a popular troubleshooting tool originally introduced nearly 30 years ago.
It provides network path analysis and visibility, with the ability to identify the number of hops, respective IP addresses, host names, packet loss, and latency.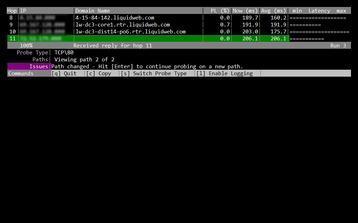 New generation
Hybrid cloud is emerging as the dominant approach to IT, enabling organizations to mix compute and storage resources across on-premises, colocation and public cloud environments.
Traceroute NG aims to help network managers navigate the complexity of hybrid networks. The free tool simulates real application traffic to map paths across networks and through firewalls.
It features NetPath technology to provide accurate path information and enable network visualization - the same technology used in SolarWinds' Network Performance Monitor product (that costs more than $3,000).
According to SolarWinds, Traceroute NG can quickly pinpoint bottlenecks across networks connecting critical services and applications, whether these resources are running on-premises or in the cloud.
"Network performance is the currency of user experience, as well as business performance in many cases, so it's imperative that IT professionals can get accurate data to effectively manage responsiveness and availability," said Christoph Pfister, executive vice president and head of products, SolarWinds.
"With Traceroute NG, we've replaced a fan-favorite tool with something that really works on modern hybrid IT networks. We're confident it will become the tool IT pros use first when troubleshooting their networks and applications."