SK Telecom (SKT) has doubled the performance of its Titan supercomputer in South Korea.
The capacity of Titan, which acts as the brain for SKT's artificial intelligence model Aidat, has expanded to 1,040 Nvidia A100 GPUs, for a performance of 17.1 petaflops.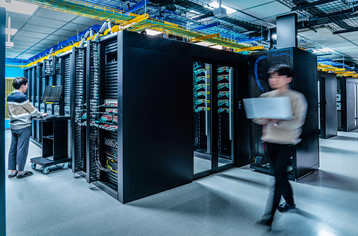 The supercomputer was first commercialized in May last year with a beta launch of Aidat (also known as A.) in May last year with a Korean Language model GPT-3.
Aidat has been described by the company as being made to "help customers use their time for more valuable activities, 'A.' handles many different tasks on customers' smartphones, and recommends/plays music or video that match their preferences. In short, 'A.' is a time-saving service that intelligently gets the job done for customers." The company expects the capacity expansion of Titan to enable more sophisticated learning of Aidat than previously.
"Through the expansion of the supercomputer, A. will be able to learn more sophisticatedly than before, which will play a major role in improving the flow of conversations with people and the completeness of answers," Kim Young-Joon, lead of SKT's Aidat promotional team, said.
"We will continue to make efforts to lead AI technology leadership through aggressive R&D investment, infrastructure expansion, and talent recruitment."
Titan ranked 92nd in the Top500 list released in November 2022, and at that time had a peak performance of 7.19 petaflops. The HPC system ran on the HPE Apollo 6500 platform and used the AMD Epyc 7763 64C 2.45GHz processor. Further details of the upgrade have not been released.
That same month, SKT announced its vision to become an 'AI Company,' which Aidat is said to embody. According to the company, Aidat is already applying tens of billions of parameter models to commercial services.