The Southeast Asia-Japan 2 consortium (SJC2) has signed an agreement with NEC Corporation to build a high-performance submarine cable that will land at eleven different locations in the Asia Pacific, spanning both North Asia and Southeast Asia.
SJC2 starts off in North Asia from Japan, landing at South Korea, mainland China, Taiwan and Hong Kong. The other end begins from Singapore, and lands at other Southeast Asian countries such as Thailand, Cambodia and Vietnam.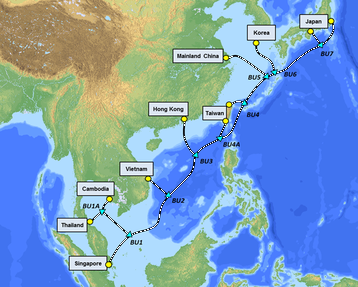 Telecom friends and Facebook
Consisting of eight fiber pairs of high capacity optical fiber with an initial design capacity of 144 Terabits per second, construction of the 10,500-kilometer long cable is expected to be completed by the fourth quarter of 2020.
The SJC2 will be built and operated by a global consortium comprising telecommunications companies such as China Mobile International, Chunghwa Telecom, Chuan Wei, KDDI, Singtel, SK Broadband and VNPT. Facebook is also part of the consortium.
"The construction of the SJC2 cable marks a key milestone in intra-Asian digital collaboration. The newer and higher capacity cable complements the earlier SJC which was completed in 2013. It is a critical infrastructure to provide seamless connectivity, lower latency and network diversity to enterprises and customers in this economically dynamic part of the world," said Linette Lee, chairperson of the SJC2 consortium and director of submarine cable investments at Singtel.
Atsuo Kawamura, senior vice president at NEC, added: "NEC is honored to be selected by the SJC2 Consortium as the supplier for the most advanced optical fiber submarine cable system, landing at eleven locations across nine countries and regions. SJC2 is designed so that once completed, it can carry at least 18Tbps of capacity per fiber pair."
He added: "The robust and flexible design will enable SJC2 to cope with future changes in capacity demands. SJC2 will provide seamless connectivity and network diversity, while serving to complement other Intra-Asia submarine cables, among others, such as the original SJC built in 2013."