The European Union's ambitious project to develop a low-power microprocessor for exascale supercomputers, data centers and the automotive market has passed its first major milestone.
After launching in December last year, the European Processor Initiative has delivered its first architectural designs to the European Commission.
EU made this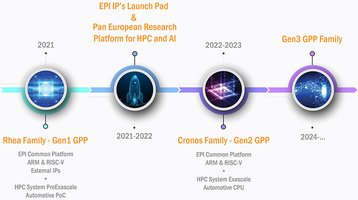 The EPI plans to build a European microprocessor using RISC-V architecture, embedded FPGA and Arm components, ready for a pre-exascale system in 2021, and an upgraded version for the exascale supercomputer in 2022/23.
Part of the wider EuroHPC Joint Undertaking and funded under the EU's Horizon 2020 program, the "European Processor Initiative will deliver key technologies to the new European HPC strategic plan for an independent and innovative European high-performance computing and data ecosystem," Jean-Marc Denis, EPI chairman of the board, said.
"Energy efficient high-performance families of EPI processors will include most advanced general-purpose and accelerator cores that will deliver unprecedented processing capabilities, enabling EU researchers from academia and industry to most efficiently address global challenges. The business sustainability of the initiative is supported by carefully balanced target markets, with primary focus on exascale HPC/AI and automotive markets."
The project's consortium includes 26 partners across industry and academia, including Atos, CEA, the Barcelona Supercomputing Center, and ETH Zürich. "It is a privilege to lead this consortium and enable the creation of a new big player in the field of advanced semiconductors in Europe," Philippe Notton, general manager of EPI, said.
"We have the best teams, and a huge portfolio of expertise on board from deep node submicron, co-Design, computer science, to HPC, and automotive end-products. We expect to ship from 2021 our first high class and high-performance solution."
Earlier this year, we profiled the EPI, as well as the US, Chinese and Japanese efforts to build exascale supercomputers.