Singapore Telecommunications (Singtel) has announced a new data center located in Jurong that it says will be its biggest such investment yet, to meet colocation and cloud demands. 
The new DC West site will cost US$285 million (S$400m), and have the equivalent of Tier 3+ reliability. The purpose-built seven-storey building will have a floor area of over 570,000 sq ft, and is equipped with a total power capacity of up to 36 megawatts – one of the highest in the region - according to a factsheet (pdf) linked from Singtel's website.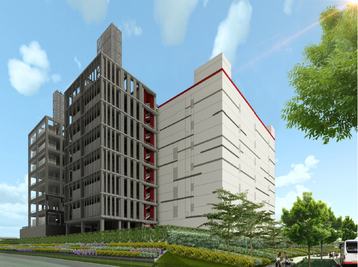 Tall and green 
The data center is being built to achieve the BCA Green Mark Platinum when completed, and incorporates environmentally friendly features such as a Diesel Rotary Uninterruptible Power Supply (DRUPS) and a critical cooling system that uses "NEWater" - the brand name for water reclaimed from sewage by Singapore's Public Utilities Board.
Finally, DC West is designed with an eye towards financial institutions, and is expected to meet the Monetary Authority of Singapore's (MAS) Technology Risk Management guidelines that was drafted to address both existing and emerging risks on this front. According to Singtel, DC West will be completed in the third quarter of 2016.
"This new data center is designed to meet the critical hosting needs of the financial services industry, government agencies, and cloud and Internet service providers," said Bill Chang, the CEO of Singtel Group Enterprise in a statement. "It enables Singtel to attract and host world-class cloud players in Singapore and position the country as a global hub for cloud computing and innovation."
DC West is scheduled to be completed at a time when other three other new data centers are expected to come online, and is itself a stone's throw away from Kingsland Data Center, which opened earlier this week.
As we reported earlier, Telin-3 by Telin Singapore is expected to be completed in the third-quarter of 2016, and the 1-Net North data center by 1-Net had seen its completion date pushed back from end-2015 into early 2016. While Digital Realty is estimating a late-2015 delivery for its second data center in Singapore, the first phase will see only 3.2 MW out of the planned 13.2MW of power made available – leaving the bulk to come online in 2016.
On the other hand, Singapore's Smart Nation vision and the impending proliferation of Internet of Things is expected to culminate in a much greater demand for backend processing and storage capabilities, due in part to the enormous amount of data that will be generated. The new data centers could well play an important role to help realize the vision.