Singapore has announced plans to double its submarine cable capacity, with three new landing sites in the next 10 years.
The plan is part of a digital connectivity blueprint launched by Singapore's Minister for Communications and Information Josephine Teo at the ATx event, which includes developments in infrastructure and software as well as moves to promote "digital leaders."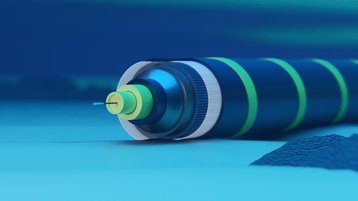 There are already 26 cables landing at Singapore, giving the city-state more cables than Indonesia, Japan, or Malaysia, despite it only having a landmass the size of New York City and a population of 5.5 million. The cables terminate at three landing stations, and the blueprint plans to double this capacity within the next 10 years.
The blueprint also plans to provide seamless end-to-end 10 Gbps connectivity within the country in five years and includes moves towards greener data centers, with a standard designed to increase their operating temperature.
Teo said: "We are not going for more of the same, just faster. Instead, we are building capacity for the widespread use of new applications that the current bandwidth will not be good enough for, such as those with data-intensive operations or heavy use of AI," as reported in the Straits Times.
The submarine cable upgrade is already underway, as there are reported to be another 14 cables already on their way to the city-state, including Echo, the first direct cable between the US and Singapore, due to be completed by Meta and Google in 2024. Another trans-Pacific cable, Bifrost is being brought in by Meta, Keppel, and Telin.
However, landing more cables is tricky because of the limited capacity at existing sites, which causes backlog and delays in approvals.
More landing stations could result in faster approvals and bring in up to $7.4 billion (S$10bn), Telegeography research analyst Marvin Tan told Nikkei Asia. However, getting those sites will require a lot of work, including the provision of reliable power, disaster mitigation measures, and favorable regulations from the government.
Tan wants to see transparent policies around the siting of cable landing stations, and streamlined permitting for new cable landings, as well as clear data privacy and protection policies.
Minister of State for Communications and Information Janil Puthucheary said the new cables and landing stations will require the government to work with international fiber companies and other government agencies.