Singapore has launched the world's largest floating solar energy test-bed this week to examine the effectiveness of different solar photovoltaic systems.
The $11-million test-bed measures one hectare and is located in Tengeh Reservoir in Tuas, where it will be deployed over six months to study the performance and cost-effectiveness of the system, according to a report by local broadsheet The Straits Times.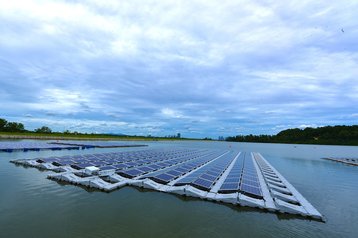 Also cuts evaporation
"Floating PV systems not only help to overcome land constraints but also have the potential to reduce evaporative losses from our reservoirs," said environment and water resources minister Masagos Zulkifli at the joint opening ceremony of the 3rd Asia Clean Energy Summit and the 26th Photovoltaic Science and Engineering Conference this week, reported Channel News Asia.
Each solar photovoltaic system has a capacity of 1kW peak, and will be compared against a baseline roof-top system to be installed nearby. Two of the best performing system from this trial will be selected for a larger 2MW peak capacity trial.
The Public and Utilities Board (PUB), the national water agency, will study the environment impact on the reservoir, specifically its biodiversity and water quality of the reservoir as a result of the installations.
"As a highly dense city state with limited space for solar deployment, Singapore is placing emphasis on building up urban solar capabilities which include floating solar as a key focus area. Singapore is also positioned as a living lab for companies to test and commercialize innovative urban solutions," said Goh Chee Kiong, an executive director at EDB (Economic Development Board).
"We are confident that the floating photovoltaic test-bed will serve as an important reference for local and international companies to scale up their solar technologies for global markets," he said.
An established data center hub, the city state of Singapore is home to public cloud juggernauts such as Amazon Web Services (AWS), Microsoft Azure and – very soon – Google Cloud. Indeed, data centers account for seven percent of Singapore's total energy consumption, compared to the average of one to two percent elsewhere, and is also compounded by a dearth in easily harnessed renewable energy.
However, this has not stopped the Singapore government in embarking on a long-term plan to establish itself as the dominant player in green IT.
Floating photovoltaic systems could work well here, given that Singapore has a total of 17 reservoirs and makes up to two-thirds of Singapore's land surface. Moreover, innovations such as with systems that uses the water to actively cool panels for better performance, can also make them more attractive than rooftop systems.
Earlier this year, the Info-communications Media Development Authority (IMDA) announced plans to conduct trials of the world's first data center for tropical climates. The objective is to create a proof-of-concept that data centers can function optimally at temperatures of up to 38 degrees Celsius, and with an ambient humidity of 90 percent and higher.