Eaton Power's management products have been validated to work with Simplivity's hyperconverged infrastructure products.
Simplivity combines all data center services and functions below the hypervisor onto commodity x86 systems which it reckons to be one third of the lifetime cost of comparables systems. Eaton says this is the first time a power management andmonitoring system has been validated with such a hyperconverged infrastructure.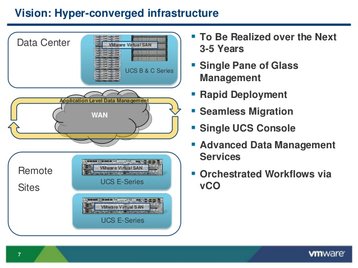 Integrate power with software
Eaton's products are integrated with VMware vCenter, so customers can scale up without losing business continuity.
"Eaton's power management solutions deliver protection for our hyperconverged platform," said Erik Randles, vice president, business development, SimpliVity.
During validation, SimpliVity customers used Eaton's  software to provide automated virtual workload management during a power disruption.
The Eaton software can let SimpliVity end-users trigger virtual machine (VM) live migrations or set specific times for VMs to shut down during a power event, helping to keep critical applications up-and-running while shutting down non-essential machines for enhanced flexibility and protection.
The team should allow power to scale as well as IT, according to Hervé Tardy, vice president and general manager of Eaton's distributed power quality division: "SimpliVity and Eaton's integration with vCenter reduces the learning curve and cost of acquisition."
Eaton's ePDU G3 portfolio of rack power distribution units (PDUs) provide users with monitoring and control at the outlet level. Combined with an environmental monitoring probe, they let users configure automated actions and alerts when humidity and temperature threaten rack hardware. 
SimpliVity's systems put 8-12 core data center services on commodity x86 systems, including the hypervisor, compute, storage, network switching, native data protection, cloud gateway, caching, wide area network (WAN) optimization and real-time deduplication.