Hyperconverged infrastructure vendor Simplivity has updated its OmniStack data virtualization platform, with improvements to management, workload optimization and multi-site deployment.
OmniStack 3.5 introduces OmniView, a predictive analytics tool that runs in a browser and can correctly estimate infrastructure capacity requirements, now and in the future. It also adds support for Microsoft's hypervisor, Hyper-V. Simplivity has promised to start implementing support for open source KVM hypervisor in the nearest future.
OmniStack 3.5 and OmniView will be generally available on April 18.
Bells and whistles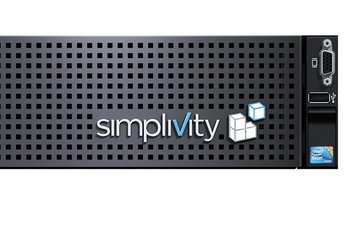 Simplivity makes hyperconverged appliances that include networking, compute and storage in a single box. The company enjoys hardware partnerships with Lenovo and Cisco, and releases regular updates to the OmniStack software platform that contains its proprietary technology.
The most notable addition in OmniStack 3.5 is OmniView, a web-based support dashboard that captures the data stream coming out of the hardware support agent to offer visualizations and trend analysis.
According to Simplivity, OmniView can help improve resource utilization, diagnose performance or latency issues and anticipate future capacity requirements.
Stuart Gilks, solutions architect director at Simplivity, told DatacenterDynamics that OmniView is being developed independently of the main software platform and will be updated on a rolling schedule, unlike OmniStack that releases a major version about once a year.
The latest version of the platform also adds REST APIs to simplify integration with third-party applications. Meanwhile the all-new Intelligent Workload Optimizer integrates data on storage performance and location with vSphere's Distributed Resource Scheduler in order to rapidly assign VMs to the tasks where they are needed most.
OmniStack 3.5 features expanded support for multi-node stretched clusters - customers can now manage up to eight nodes spread across multiple physical locations.
And finally, the platform adds support for Hyper-V, which will be aligned with the launch of Windows Server 2016 later this year. Simplivity is already working with tech preview version of the operating system.
OmniStack already supports vSAN, but Gilks told DCD that KVM support was still quite limited, and the company was aiming to get it working next.
"SimpliVity's foundational OmniStack Data Virtualization Platform was initially launched after 43 months in development, two to three times longer than other converged IT vendors. This investment allowed us to become the only hyperconverged vendor to assimilate all IT infrastructure below the hypervisor," said Jesse St. Laurent, vice president of product strategy at SimpliVity.
"Now we've broadened our portfolio with OmniStack for Hyper-V, in addition to increasing productivity with sophisticated automation and predictive analysis, and delivering greater availability and risk mitigation through expanded multi-site deployment options."
To view a list of the latest Simplivity papers, please click here.