Cyprus data center firm Simplex has held an inauguration ceremony for its second data center on the Mediterranean island.
The company last month held an official opening ceremony for its LCA1 facility in Larnaca. The purpose-built facility spans 10,600 sq ft (985 sqm) and offers 1MW of capacity.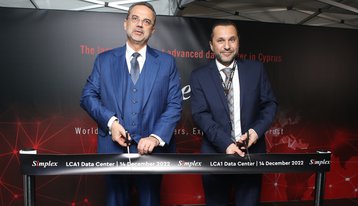 Simplex was established in 2007, launching the first carrier neutral data center in the country, LIM1 in Limassol.
Michael Omerou, managing director of Simplex, said: "I am really proud and excited to be standing in front of such a mass gathering that inevitably demonstrates the importance of data centers in general and LCA1 in particular. Neutral, multi-tenant data centers like LCA1 consist of important, critical infrastructure for any country that among others create a huge economic potential."
He continued: "We aim to establish an ecosystem that will attract international technology giants including content providers, international ISPs, cloud providers, and other hyperscalers that through Cyprus will be able to serve neighboring countries which suffer from political and financial fragility and despite their big population/market size, do not offer reliable telecoms and electricity infrastructure. LCA1 will evolve as an investment magnet and a multiplier of economic growth for Cyprus economy."
The company said LCA1 is the largest data center in Cyprus, and makes Simplex the only firm with two privately-owned facilities on the island. Its Limassol facility offers 215 sqm (2,300 sq ft) across two data halls.
Simplex said LCA1 will soon be using extensively, if not exclusively, green power from renewable sources, mainly solar.
The facility was shortlisted for a Middle East + Africa Data Center Development Award at DCD's 2021 awards.
George Dritsanos, Secure Power VP for South East Europe at Simplex partner Schneider Electric, added:
"Schneider Electric is the market leader in Energy Management and Industrial automation. Furthermore, Schneider Electric has been recently recognized as the most sustainable company in the world by Corporate Knights. We are very pleased to be here today, marking our long-lasting cooperation with Simplex with which our values and vision have been well aligned for creating a top-notch data center with very high efficiency and increased sustainability standards.
LCA1 has in fact been operating since December 2020, but due to Covid-19 was unable to hold any kind of ceremony until now. The inauguration ceremony was attended by Kyriakos Kokkinos, Deputy Minister of Research, Innovation and Digital Policy.
Addressing the event, Deputy Minister Kokkinos, said:
"I truly believe that Cyprus can be a prime location for data centers so it gives me great pleasure to be here today for the official inauguration of this ground-breaking facility, that significantly enriches Cyprus' digital infrastructure portfolio and further advances the country's international competitiveness and posture as a regional tech and telecommunications hub. The continued expansion of Simplex is vital to realizing our country's growth potential and magnifying the impact of digital innovation across industry, the economy, and society. The LCA1 in Larnaca features a state-of-the-art infrastructure with remarkable reliability, security, and flexibility and it is no wonder it has received so many international honors, making our country proud."