Sri Lanka's Seylan Bank has opened a data center in the city of Colombo.
The facility at the bank's Seylan Towers was designed by consultant Tharindu Meepegama and built by V S Information Systems. It will host the bank's core application servers, storage, network and security, and connectivity infrastructure.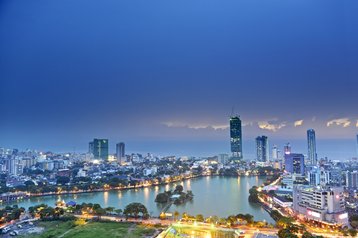 "There was a need to centralize our data center infrastructure operations for effective management, high availability, safety and cost reduction," said Seylan Bank CIO Harsha Wanigatunga. "Our move to invest in a state-of-the-art data center is a continuation of another first by Seylan Bank in Sri Lanka, as we will now move towards serving our customers better by ensuring high accessibility to our advanced digital infrastructure to provide even more customized and innovative solutions."
The new facility will improve SB's operating efficiency and provide better physical security, power, cooling, network connectivity, and overall management. It will also enable a greater assurance of systems availability and service level assurance.
"The foundation of our data center is based on making digital banking for our customers seamless, by offering reliable, secure and energy-efficient solutions, combined with best-in-class customer support," concluded Wanigatunga.
The press release says the Seylan Towers facility is the first Tier III grade facility in the country, but state-owned National Savings Bank's Colombo facility was certified Tier III earlier this year, while local telcos Dialog Broadband and Sri Lanka Telcom both have certified Tier III facilities elsewhere on the island.
"We are honored to receive the Tier III certification for our data center, a first for the banking sector in the Island which was designed and built by N-able for us. The data center is a step in the direction of increasing transaction reliability, speed, and zero downtime for the bank's day-to-day IT transactions," said Ajith Peiris, General Manager/CEO of NSB.
In 2012 Seylan and Dialog announced a managed services agreement to host the bank's infrastructure in one of the telco's data centers in the country.