SES Space & Defense has been awarded a contract worth $27.54 million to provide satellite communications capabilities to support the US Army Warfighter Information Network-Tactical (WINT-T) training activities.
Lasting five years, the Commercial Satellite Communications (COMSATCOM) Transponded Capacity (CTC) contract has been awarded by the US Space Force's Commercial SATCOM Communication Office (CSCO) through the Defense Information Systems Agency's (DISA) Defense Information Technology Contracting Organization (DITCO).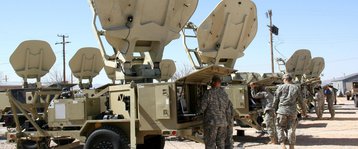 SES Space & Defense is a wholly-owned subsidiary of SES and has more than 70 satellites in orbit which according to its website cover 99 percent of the world's population.
In a press release, the company said the contract would leverage its global satellite fleet to provide services for the US Army Network Enterprise Technology Command (NETCOM) and the US Army Forces Command (FORSCOM) units to train and prepare a combat-ready, globally responsive Total Force.
According to the company, this will enable the US Army to build and sustain combatant command readiness requirements, plus increase research and development activities for testing new applications for mobile missions.
"SES Space & Defense has a longstanding relationship with the US Army and has been supporting the WIN-T program's evolving needs for over a decade," said SES Space & Defense president and CEO David Fields.
"As the US DoD adopts new and more advanced information technology capabilities, it is key that we support them with the much-needed resilient and secure satellite communications in multiple orbits and bands. Combining that with our extensive experience in network integration, we can ensure our customers' advantage in any critical mission scenarios."
SES recently confirmed it is in talks over a potential $10 billion merger deal with rival Intelsat.