Satellite firm SES has secured a €300 million loan from the European Investment Bank (EIB), the financing institution of the European Union.
The companies announced the financing agreement this week. The seven-year term loan will back investments related to the design, procurement and launch of three previously announced satellites that will deliver advanced broadcast and broadband services spanning Western Europe, Africa, and the Middle East.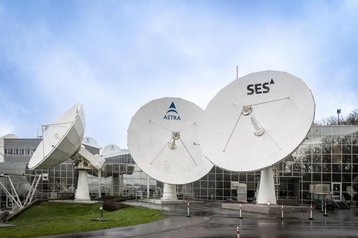 The money will be used to procure three Ku-band satellites – Astra 1P, Astra 1Q, and SES-26 – from Thales Alenia Space to deliver video broadcasting as well as network services. All three are due to launch in 2024.
EIB VP Kris Peeters said: "Space technology, data and services have become indispensable in the lives of Europeans. I am therefore very enthusiastic about this agreement with SES, which directly supports the EU space policy. It is a big step in the successful launch of a new generation of satellites able to deliver advanced broadcast and broadband services for the benefit of both the private and public sectors in Western Europe and beyond. Space is a key driver of innovation in Europe and we are eager to support space entrepreneurship. The size of the loan, the largest ever provided by the EIB to a Luxembourgish company, also demonstrates how strategically important the space sector is for the EIB and the European Union."
Sandeep Jalan, CFO of SES, added: "We are very happy to have secured this term loan from the European Investment Bank. This diversifies SES's sources of financing on attractive financial terms. The agreement enables us to deliver on our commitment to broadcast high-quality content from our prime TV neighborhood serving 118 million TV households across France, Germany, and Western Europe."
Two of the satellites – Astra 1Q and SES-26 – will be software-defined satellites that will enable service reconfiguration and in-orbit adjustment to SES customers' demands. SES-26 will replace SES' NSS-12 satellite and also operate in the C-band.
The loan is the largest amount ever provided by the EIB to a Luxembourg-based company.
First O3b mPOWER satellites launch
SES' first two O3b mPOWER satellites were launched in orbit late last month aboard a SpaceX Falcon 9 rocket from Cape Canaveral in Florida. The initial fleet will total 11 satellites and commercial service is expected to begin in the third quarter of 2023.
First announced in 2017, the first of the 11 machines was originally set to launch in 2021 but faced delivery delays. Satellites 1 and 2 are currently due to launch in December 2022, while satellites 3 & 4 and 5 & 6 are set for two launches in Q1 2023. Satellites 8 through 11 are due for launch later in 2023 and into 2024.