Property developer SEGRO has bought 1 million sq ft (92,900 sq m) of office space adjacent to the giant data center cluster it runs in Slough, UK.
The 39-acre office park on Bath Road was revealed to be for sale by estate agent AEW in September. The unknown buyer has turned out to be SEGRO, which paid £425 million ($570m) for the park, which it is expected to redevelop with many of the buildings turning into data center space, effectively merging it into the Slough Trading Estate, which SEGRO has built into the UK's largest cluster of data centers.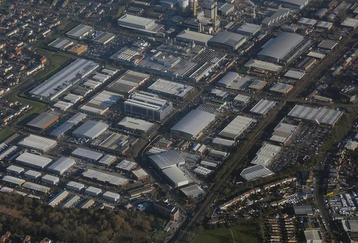 Return to vendor
It seems that the 39-acre office campus was originally a previous SEGRO project, developed by the company and sold off to AEW in 2016 for £325 million ($448.4m) in a deal reportedly backed by Australian pension fund AustralianSuper and Japanese investor Norinchukin Bank.
SEGRO invested the money in developing the booming Slough Trading Estate campus, which is now valued at £2.2 billion ($3bn), while the office park gives rent of £20 million ($27m), reflecting a net initial yield of 4.6 percent. 
SEGRO says some of the buildings are now "aging" and have relatively short lease terms, so the acquisition will help it "satisfy growing customer demand for data centers, creative industries, life science occupiers and other potential users of industrial space in Slough."
"Over recent years we have seen a transformation in the nature and level of occupier demand for industrial, data center and other uses of space in Slough," said David Sleath, SEGRO's Chief Executive. "Since 2016, we have created over 96,000 sq m (1m sq ft) of new industrial space on the Slough Trading Estate to meet this demand, of which 58,000 sq m (620,000 sq ft) has been provided to support our growing data center customers.
"Developing the highest and best use of industrial land in Slough has been core to our purpose as a business since 1920 and we look forward to continuing to do so following the re-acquisition of the office portfolio, allowing SEGRO to further invest and attract new businesses into the local area."
The acquisition will be funded from cash and bank facilities.