A new data center just outside of Scotland's capital, housed in the Pyramids Business Park in Bathgate, is now open.
The 60,000 square feet facility is in the first stage of a three part expansion plan, the final phase being a 250,000 square feet data center which would bring the total to 500,000 square feet - making it the biggest in the country.
Space to grow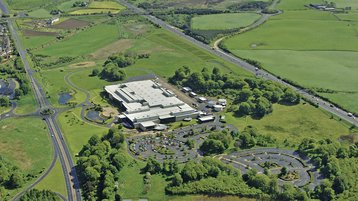 The project is a partnership between property investor Ashfield Lane and TechRE, which will manage the facilities, with advisors Cushman & Wakefield, Commsworld, Atkins and 3D Reid. The 93-acre site is currently used as a production space, offices and distribution warehouse, but remains largely unoccupied.
The Pyramid Data Centre is built to Tier 3 standards and has a maximum power supply of 18MVA from the grid; the developers reportedly plan to transition to renewable power in the future.
By providing infrastructure to support cloud expansion in Scotland, investors hope to attract major customers who thus far have chosen to run operations from data centers in England and Ireland, the latter having attracted "upwards of £6bn [$7.72bn] from companies such as Google, Facebook, Apple, AWS and Microsoft" in recent years, according to Michael Hunter, associate director for Cushman & Wakefield's data center advisory group.
But Scotland has an unfortunate track record when it comes to ambitious critical infrastructure projects, and Pyramid Data Centre is not the first to claim the title of the country's largest: Lockerbie Data Centres, a £800m ($1bn), 272,000 square meter (2.9m sq ft) campus in Dumfries and Galloway, was thought up in 2007 but is yet to be built, having already received three different planning permissions.
Another example is the Queensway Park project, which was granted approval in 2015 and began construction in 2016; other than opening pre-bookings on racks and suites, developers haven't given any indication of when it will be open for business.