The racing arm of sports car manufacturer Ferrari has deployed a modular data center solution by Schneider Electric to analyse its competition-critical data.
Schneider's APC InfraStruxure system provides power, cooling, management and related services, as well as a rack system that can scale according to the client's computing demands. An integrated cooling system consists of in-row air conditioners and high-efficiency hot aisle containment systems.
Scuderia Ferrari has been using various iterations of the product since 2004, when it commissioned its first Schneider data center with cooling capacity of 20kW per rack. In 2015 Ferrari's second data center was built, totaling 3,200 sq ft.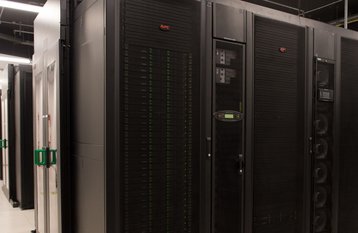 Data analysis
The Ferrari team is the most successful team in the history of Formula One, having recorded 224 race victories. Its performance relies on the speed of its decision-making, according to Vittoro Boero, chief information officer at Ferrari.
The task requires IT infrastructure that is flexible and reliable, adapting as data is gathered and analysed in real time during races.
In addition, changes in race regulations during the season can require the high performance computing environment to be modified so that it adequately collects and analyses data.
Antonio Tornatore, head of process at Scuderia Ferrari, said: "We collect and analyze telemetry – remote monitoring of dozens of sensors in the car during an actual race –, weather, and strategic data during races.
"We continuously process this data in real time in order to refine and constantly improve our performance. At the same time our IT team collects and processes system operation data for continuous performance tuning."
"Our engineering department wanted better performance and we needed to manage remotely. Our facility needed to be customizable, the rooms needed to be able to change their configuration easily.
"Because of all of the rules changes of the business, a modular type of data center was required," Tornatore said.