Schneider Electric has launched the next generation of its EcoStruxure energy management platform, designed to support Internet of Things (IoT) applications.
The new EcoStruxure platform is intended to support buildings across the enterprise including control at the edge of the network, and analytics applied to the data gathered by the platform. Microsoft, Intel and others have contributed to the product range, which will be open to new applications from an ecosystem of developers, data scientists, hardware and service partners.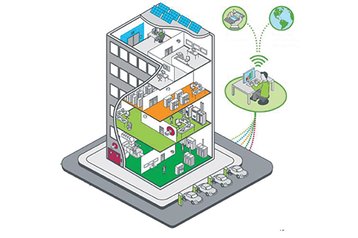 Keeping control
EcoStruxure will let companies implement IoT easily, promised Tanuja Randery, Schneider's president UK & Ireland in the press release. It includes sensors with embedded intelligence for power systems, combined with automation, but giving operators remote access and override capabilities. It also offers local control and firewall protection. There are standardized system reference designs and core architectures for IoT solutions at large scale. 
Schneider organizes its products into a three-layer stack: products such as sensors and circuit breakers, an edge control layer for automation, and the application layer, which includes an ecosystem of apps, analytics and services, coming from partners and from Schneider itself, including acquisitions such as Invensys, Telvent and Summit Energy.
Schneider uses Microsoft's Azure IoT cloud as the backbone of EcoStruxure, and uses Intel's field programmable gate arrays (FPGAs) in its sensors and devices.