European power and cooling infrastructure specialist Schneider Electric has unveiled Ecoflair, a new range of indirect air economizer solutions that promises to improve data center efficiency.
Ecoflair features modular build and customizable design, making it suitable for a variety of cooling requirements and climate conditions. It is available in 250kW and 500kW sizes.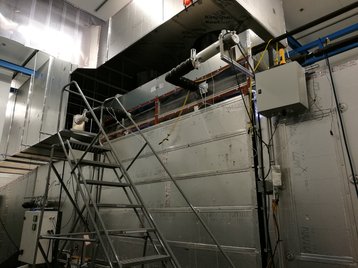 Amazing plastics
Ecoflair is built around a lightweight polymer heat exchanger designed by Schneider. The modular construction enables customization even before the unit leaves the factory, as well as simplified installation and improved serviceability.
Modular construction also means cooling equipment can be added at the same time as new power equipment, helping avoid overprovisioning as the facility expands.
Schneider claims that these features, along with a number of technical enhancements, enable Ecoflar to reduce operating costs by as much as 60 percent when compared to traditional cooling solutions, which can have a very beneficial effect on data center PUE. It can also help increase the server footprint by removing cooling equipment from the data center floor, resulting in more revenue.
According to calculations made by Schneider, a 1MW data center based in London and using a traditional yet efficient chilled-water cooling system would operate at a PUE of 1.14, whereas the same facility using an Ecoflair system would reduce PUE to 1.039, resulting in annual financial savings of €88,000.
"Modularity together with a proprietary polymer heat exchanger are key to the success of Ecoflair," said John Nieman, director of Product Management for Cooling Solutions at Schneider Electric.
"Its tubular design prevents fouling that commonly happens with plate style heat exchangers. This minimizes maintenance and impact to performance over the life of the heat exchanger. In addition, the polymer is corrosion-proof compared to other designs that use coated aluminum which corrodes when wet or exposed to the outdoor elements. The heat exchanger is also modular making it easily replaced, should it be required, minimizing downtime and inconvenience."
Indirect air economization can be deployed in almost all environmental or climactic conditions. Schneider says Ecoflair is particularly suited for colocation facilities rated between 1MW and 5MW and large hyperscale or cloud data centers rated up to 40MW.