Power infrastructure specialist Schneider Electric is introduccing its prefabricated SmartShelter Data Halls to the UK and Ireland.
The Data Halls are larger than ISO containers but follow the same design principles, offering space for 50 to 100 racks. They are aimed at service providers, cloud operators, and large enterprises, and can be deployed within existing buildings or placed outside.
"The SmartShelter Data Hall allows our larger customers to take advantage of the speed and predictability of our smaller prefabricated solutions with the added flexibility of a system designed for growth and rapid expansion," said Andrew Bradner, vice president for Prefabricated Data Centers at Schneider.
The announcement was made at the Data Center World exhibition in London.
Fresh from the factory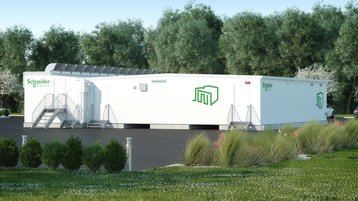 Schneider's SmartShelter Data Halls consist of modules that include racks and cabinets alongside power and cooling equipment. Each Data Hall can support power and cooling capacity of up to 500kW.
The enclosures are made to order, so they can be customized according to customer requirements. Each module ships fully integrated with Struxureware data center Infrastructure management (DCIM) software.
According to Schneider, this approach simplifies development of the potential data center site and cuts down on the time needed to start running IT services. It is also more predictable in cost and performance.
One obvious advantage of deploying SmartShelter Data Halls, as opposed to brick-and-mortar facilities, is the ability to introduce additional capacity on campus in small increments – data center owners no longer have to construct an entire building to add a few more racks.
"There are some different complexities to this, as far as design goes," Scott Neal, product director for Prefabricated Modules at Schneider, told DatacenterDynamics.
"For cooling, we've actually built in our air economizer solution, using outside air to cool the data center, so it's definitely very good for Nortern European climates. We have a chilled water version of that as well, and that is more typical of the larger deployments where they are looking for more efficiency, especially your service providers, large enterprises. At a small, single row scale, efficiency is a need, but it's not necessarily the driver."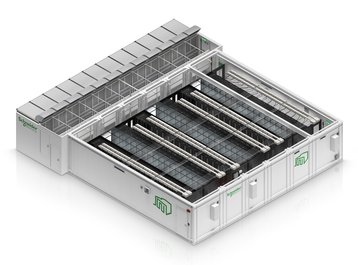 Some of the early adopters of the SmartShelter Data Halls include management consultancy Capgemini and American colocation provider Keystone.
Schneider Electric has also expanded its line of prefabricated Power Skids – power distribution modules that include low voltage switchboards, UPS, and batteries. The company is now offering a larger Power Skid that can support up to 1MW worth of equipment.