Critical infrastructure specialist Schneider Electric is adding Lithium-Ion batteries to its popular Smart-UPS product range.
According to Schneider, the new batteries last twice as long as traditional Lead-Acid cells but weigh less, are more versatile, and offer lower TCO.
The company has also launched the reinforced NetShelter SX3K IT cabinet, designed to reliably house up to 3,500 pounds of IT equipment.
Both products are being demonstrated this week for the very first time, at the Cisco Live conference in Orlando, Florida.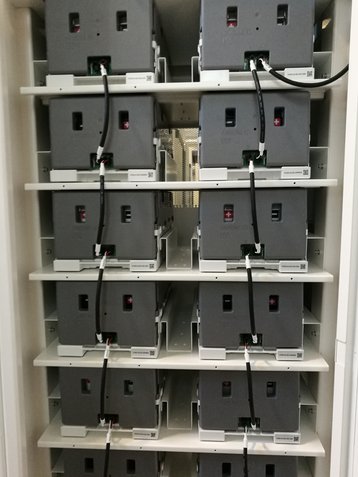 Trying new things
The Smart-UPS range is actually made by Schneider's subsidiary APC, which specializes in data center equipment. The range includes a wide variety of UPS systems, from smaller units designed to protect workstations and Point-of-Sale terminals to rack-mounted devices for large data centers.
Li-Ion batteries last longer and support higher temperature ranges than Lead-Acid batteries, which means they don't require cooling.
With the addition of Li-Ion and short-depth form factor, customers can now fit Smart-UPS systems in spaces that they couldn't have previously used for energy storage. The devices also support the patented 'green mode' that Schneider says provides "extremely high efficiency."
According to the company, Smart-UPS with Li-Ion batteries can generate a decrease in TCO of up to 47 percent over its lifecycle compared to UPS systems with Lead-Acid batteries.
Meanwhile, the new NetShelter SX3K is a rugged rack enclosure that supports up to 3,500-pound dynamic and 4,260-pound static loads, and can ship with IT equipment pre-installed.
The enclosure features Shock Packaging to protect the rack in transit, and is available in either 42U or 48U form-factor. It is fully compatible with Schneider's InfraStruxure data center architecture.
"Next-generation IT workloads accelerated by IoT-created data are accelerating the need for distributed IT strategies, such as colocated data centers and edge," said Russell Senesac, director of Data Center Strategy at Schneider Electric.
"Converged infrastructure has surfaced as a way to simplify these environments, and with the NetShelter SX3K IT Cabinet with shock packaging and Lithium-ion Smart-UPS, backed by EcoStruxure to enable autonomous operation, we're delivering a greater level of flexibility, resiliency, and durability that's critical in the era of data growth and distributed IT."