Schneider Electric has appointed Annette Clayton as the new president and chief executive of North American operations.
Clayton moves to the position from the role of chief supply chain officer, a role she will continue to fill for the near term, working from her office in the company's US headquarters in Massachusetts.
Clayton will be briefed to focus on enhancing relationships with electrical contractors, data center and plant managers and other customers, while attempting to make Schneider Electric a leader in innovation and services.
She will also be tasked with continuing transformation from an industrial manufacturer to a technology provider that delivers end-to-end solutions for more connected, reliable, efficient and sustainable customer operations. Clayton will focus on growth in key market segments such as data centers, oil and gas, utilities and healthcare.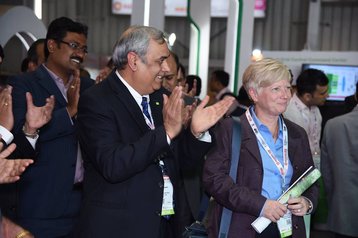 New energy landscape
Before joining the French multinational, Clayton served as vice president of global operations at Dell for five years. She also spent 23 years at General Motors in roles that included president of Saturn Corporation.
In her new role, Clayton replaces Laurent Vernerey, who leaves behind a 30-year career at the company.
Jean-Pascal Tricoire, Schneider Electric's chairman and chief executive officer, said: "She has led our supply chain to become one of the most efficient, safe and reliable in the world – transforming it into a strategic advantage for our business and our partners. I am excited to see her bring her leadership skills to our largest region, and one of our biggest market opportunities."
"This market is very dynamic and has evolved as the forerunner in driving innovation across the entire energy value chain," Clayton said. "I look forward to driving and supporting this innovation as part of our brand promise, to our customers, partners and employees, as together we lead this new energy landscape."
The North American division of Schneider Electric employs about 30,000 people across four business units and its services arm. It reported sales of $7.3 billion in 2015.