The US Cybersecurity and Infrastructure Security Agency (CISA) has issued an alert over potential threats to satellite networks.
"The Cybersecurity and Infrastructure Security Agency (CISA) and the Federal Bureau of Investigation (FBI) are aware of possible threats to US and international satellite communication (SATCOM) networks. Successful intrusions into SATCOM networks could create risk in SATCOM network providers' customer environments," the agency said.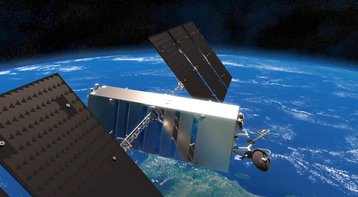 CISA has requested that all organizations "significantly lower" their threshold for reporting and sharing indications of malicious cyber activity. It also recommends operators place additional monitoring at ingress and egress point and ensure they have adequate security controls such as authentication, encryption, vulnerability management programs, and an incident response plan.
The news comes as satellite operator Viasat is still seeing its connectivity services in Europe disrupted, more than two weeks after suffering a suspected cyber attack. On the same day that Russia invaded Ukraine, Viasat began suffering issues with its KA-SAT network. The company later acknowledged that it was engaging with cybersecurity firms to investigate the issue in the midst of a suspected cyberattack.
Analysts for the US National Security Agency, French government cybersecurity organization ANSSI, and Ukrainian intelligence are reportedly assessing whether an outage suffered by Viasat's European satellite network was the work of Russian-state backed hackers preparing the battlefield by attempting to sever communications.
In other recent satellite news:
- Telesat is considering reducing the size of its planned low Earth orbit (LEO) broadband Lightspeed constellation as inflation and supply chain issues push out its launch date to 2025 and completion to 2026.
During a March 18 earnings call, CEO Dan Goldberg told analysts: "we either need to raise more money, or we need to descope the constellation" to keep it within a previously projected $5 billion budget. Goldberg said Lightspeed could reach global coverage with 188 of the envisioned 298 satellites, but no decision has yet been made. The firm recently signed a partnership with Liquid Intelligent Technologies (formerly Liquid Telecom) to explore using the Lightspeed network across Africa.
- US telecoms firm Rivada Networks has announced plans to launch its own LEO constellation. Its newly-formed Rivada Space Networks GmbH subsidiary in Germany plans to launch a constellation of 600 Ka-band satellites. The company recently acquired majority control of Trion Space, a Liechtenstein company that owns spectrum rights with the ITU.
Constellation deployment is due to start in 2024 with full deployment expected by mid-2028. Like OneWeb, it won't offer direct to consumers but aiming for wholesale agreements.
- Spanish operator Hispasat has acquired satellite services firm and teleport operator AXESS Networks for $96 million. The newly acquired company has teleports in Germany, Colombia, Mexico, Peru, Saudi Arabia and the United Arab Emirates.
Hispasat said AXESS will maintain its operations, management, work teams, and relations with customers and suppliers after this agreement.
- Intelsat, after recently emerging from bankruptcy and naming David Wajsgras as its new CEO, has partnered with Safaricom to expand LTE coverage in Kenya. It also announced a successful demonstration of a private cellular network with Microsoft Azure Private Multi-Access Edge Compute.
- AST SpaceMobile, a company building a space-based cellular broadband network accessible directly by standard mobile phones, has signed a multi-launch agreement with SpaceX. In addition to the planned summer launch of the BlueWalker 3 test satellite (BW3), the agreement covers the launch of the BlueBird satellites and provides a framework for future launches.
Vodafone recently said it had invested in and partnered with AST SpaceMobile to expand its coverage and fill in gaps between cell towers, especially across Africa.
- SpaceX now has 250,000 subscribers to its Starlink service, and the company is looking towards moving into serving the aviation market.
- SES is buying Leonardo DRS's Global Enterprise Solutions (GES) unit for $450 million. Leonardo DRS said it was shifting its portfolio, while SES plans to organize the DRS GES business unit under SES Government Solutions (SES GS) unit.
- Satellite communications equipment maker SatixFy is to go public via a merger with a Special Purpose Acquisition Company (SPAC). The Israel-based company expects to raise up to $230 million in gross proceeds by merging with Endurance Acquisition Corp, a SPAC formed by New York-based private equity firm Antarctica Capital last year.
- Aquarian Space, a startup planning to develop a lunar communications system that can provide high-speed internet between the Earth, moon, and Mars by 2024 has raised $650,000 in seed funding from Draper Associates.