Satcom Direct, a company providing satellite voice and broadband data solutions for flight deck and cabin communications, has broken ground on the phase two expansion of its colocation data center in Melbourne, Florida.
The SD Data Center, formerly known as TerraCom Direct, currently offers 5,000 square feet of space and is built to withstand a category five hurricane. The $3m 'Bravo' expansion project plans to double the available space when it is completed by the end of the year, adding capacity for a further 120+ server cabinets.
Staying safe 40,000 feet up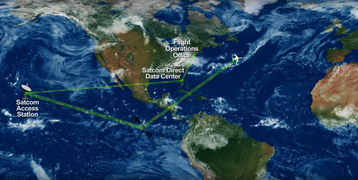 "Business aviation customers expect robust, reliable, secure connectivity to be available throughout flight. Our mission is to deliver the best user experience possible and maintain data integrity," Chris Moore, SD's CCO, said.
"As cyber attacks on business aviation increase, we are responding by enhancing our ability to monitor and manage these threats by keeping data transfer safe through the SD Data Center. Our next phase of expansion increases our capacity to support more customers recognizing the need to implement the correct protocols to stay safe at altitude."
A third expansion phase, 'Charlie,' is in the planning phase. In addition to the Melbourne facility, the company operates a data center in the ViaWest Compark Data Center Complex in Denver, Colorado.