Flash storage specialist SanDisk has updated its range of ioMemory application accelerators – big chunks of flash on PCIe cards that can dramatically improve the performance of a server.
The entire range now features SanDisk's own MLC NAND chips, rather than silicon from its competitors, as well as a new version of Virtual Storage Layer software – helping double the random read performance over the previous generation ioDrive2 cards.
This marks the first change to the ioMemory products since its original developer Fusion-io was acquired by SanDisk for $1.1 billion.
"Combining the power of Fusion ioMemory technology with SanDisk's vertically integrated NAND flash, our engineering talent and portfolio of SATA and SAS SSDs, provides customers with an unparalleled combination of flexibility, performance, scalability, quality and value to help solve their data center challenges," said John Scaramuzzo, senior vice president and general manager of Enterprise Storage Solutions at SanDisk.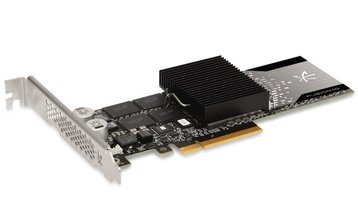 This flash of mine

Fusion-io rose to prominence thanks to its flash-based storage hardware that can speed up a server while not taking nearly as much space as a rack of SSDs. To date, the company has sold more than 250,000 ioMemory application accelerators to more than 7,000 customers.
Today, SanDisk announced updates to ioMemory SX300 series and launched a new SX350 series of PCIe cards, offering capacities from 1.25TB up to 6.4TB. Both are aimed at read-intensive workloads such as web hosting, data mining, content caching, 3D animation and computer-assisted design.
SanDisk has also updated the PX600 series, which is now offering up to 385K random write IOPS, and just 15 microsecond write latency. These cards were designed for mixed-use workloads – for example database processing or analytics - and are available in capacities from 1TB to 5.2TB.
All cards are also available as mezzanine options for HP's Gen 8 and Gen9 blade servers or the latest UCS B-Series blades from Cisco, although these can only fit 1.6TB of flash. Each card can be paired with SanDisk's recently updated FlashSoft caching software.
The updated hardware is also much cheaper – delivering up to a 61 percent list price reduction, when compared to ioDrive2.
Last month, SanDisk launched InfiniFlash – its first entry into the all-flash storage array market, which manages to squeeze 512TB of raw flash capacity in a 3U enclosure.