Flash specialist SanDisk has unveiled the second generation of CloudSpeed Ultra solid state drives (SSDs) designed with cloud service providers in mind.
These 2.5-inch SATA drives will be offered in 400GB, 800GB and 1.6TB capacities, able to deliver up to 76K random read IOPS.
The update was announced at the Flash Memory Summit in Santa Clara, California, and the SSDs themselves will be available later this month.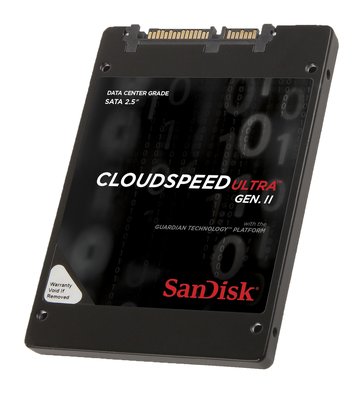 Hard drive replacement
CloudSpeed drives were designed for the cloud providers, so they focus on density and price rather than performance. The 'Ultra' part of the family is intended for mixed workloads, while the recently expanded 'Eco' range is more suitable for read-intensive applications.
SanDisk says it is the cost of IOPS (Input/Output Operations Per Second), and not capacity that's most important in mixed workloads common to data centers that power the cloud.
With CloudSpeed Ultra Gen. II, customers can expect to pay a little over $0.04 per IOPS, versus $3.50 per IOPS they would typically have to spend on conventional SATA HDDs. SanDisk adds that high I/O requirements of today's applications make it unpractical to continue maintaining large arrays of performance hard drives, when a few racks of SSDs will do the trick.
CloudSpeed Ultra Gen. II SSDs were built with 15nm MLC flash. They can deliver up to 76K read and 32K write IOPS, throughput of up to 530MB/sec and average write latency of 56 microseconds.
Just like the rest of the family, these drives feature SanDisk's Guardian Technology Platform for error correction, data path protection and failure recovery functionality.
"The demand of transaction-oriented applications puts tremendous strain on our cloud service provider customers to architect data center platforms capable of delivering high performance, while keeping infrastructure costs in check," said John Scaramuzzo, SVP and GM of Enterprise Storage Solutions at SanDisk.
"With CloudSpeed Ultra Gen. II, CSPand SDS companies can provide an exceptional customer experience, while reducing administrative overhead along with the number of servers and software licenses needed to support transaction and analytical databases."