SanDisk and Toshiba have joined forces to manufacture the world's first 48-layer 3D NAND chip that can store 256 Gigabit (32GB) of data. Denser memory chips will eventually result in cheaper, larger capacity solid state drives and more embedded memory in mobile devices.
Sample shipments of the new silicon will begin in September, and the first products based on it are expected to appear in 2016.
Better, faster, stronger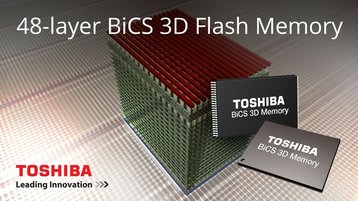 Flash memory was invented at Toshiba around 1980, and the company has been improving its memory chips ever since. But according to data collected by Statista, Samsung has remained ahead in terms of market share for the past four years, thanks to its huge consumer device business. It was also the first flash vendor to begin mass producing 3D NAND in 2013.
By the end of 2014, SanDisk was the third largest NAND manufacturer, followed by Micron, SK Hynix and Intel. The new 3D NAND chips based on triple-level-cell Bit Cost Scalable (BiCS) architecture are set to win both vendors some of that market share.
The BiCS architecture doesn't just improve capacity - its inventors say the upcoming drives will have superior write/erase endurance, write speeds and energy efficiency when compared to conventional 2D NAND.
The silicon will be mass-produced at the upcoming Toshiba factory in Yokkaichi, Japan, set to open in the first half of 2016.
Intel is also set to manufacture 256 Gigabit 3D NAND, although built with 32 layers, followed by 384 Gigabit triple-level-cell chips. Both versions are already sampling with customers.
Intel and Micron are also working on a completely new memory type called 3D XPoint (pronounced 'crosspoint') that they say is up to 1000 times faster and more durable than NAND flash. The technology has been proven to be able to store as much as 128Gb per die across two memory layers.
Meanwhile Toshiba was recently in the news following an accounting scandal that saw eight senior executives resign.