Flash memory vendor SanDisk has launched new solid state drives (SSDs) designed specifically for cloud service providers.
The second generation of the CloudSpeed Eco product improves read and write speeds, and doubles maximum capacity to 2TB. The drives were demonstrated on Monday at the Computex expo in Taipei.
"As a trusted provider of flash-based solutions for three of the largest cloud service providers, SanDisk understands hyperscale application demands. We've designed CloudSpeed Eco Gen. II to deliver better cloud-scale economics with specific features so that cloud service providers can deliver superior customer experiences," said John Scaramuzzo, senior vice president and general manager of Enterprise Storage Solutions at SanDisk.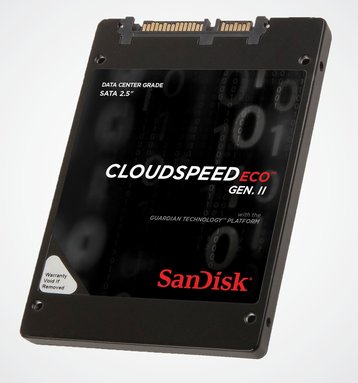 Better than ever
The CloudSpeed Eco Gen. II is a family of budget-friendly SATA drives for large data centers. They are intended as drop-in replacements for conventional hard drives, and deliver all the usual benefits: more bandwidth, faster I/O, lower power consumption, less vibration and heat.
In their creation, SanDisk has used MLC NAND chips based on 15nm process, down from 19nm for the previous generation.
The new SSDs improve sequential read speeds from 450MB/s to 530MB/s, and sequential writes from 400 MB/s to 450MB/s.
They feature power loss protection and include the company's Guardian Technology Platform, which works to provide a combination of error correction and detection technology, and data fail recovery, helping the NAND chips survive for the duration of the warranty.
CloudSpeed Eco Gen. II was designed for read-intensive applications typical for cloud-based data services, such as analytics and provision of software and platforms 'as-a-Service'.
2TB is not the limit of flash drive density: HP has just launched new 3.84TB SSDsMax, and the company doesn't even manufacture its own flash. But if it's density you want, look no further than SanDisk's InfiniFlash - a monster of an all-flash array that squeezes 512TB of raw flash capacity into a 3U box, using purpose-built cartridges containing 8TB of memory each.