Wholesale data center specialist Sabey has completed its "million-dollar superstructure" antenna base on the 375 Pearl Street Intergate.Manhattan data center tower.
The construction sits atop the 560-foot-tall facility and allows for line-of-site rooftop connectivity from antenna-to-antenna. It can support upwards of 300 antennas, removing the need for additional fiber connectivity. Still known as the Verizon Building, Intergate.Manhattan is due a facelift this year to reflect its new identity.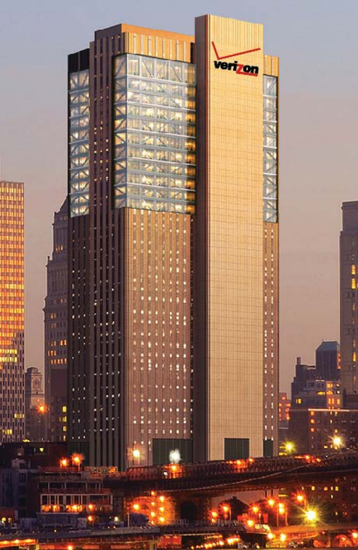 Intergate: Infinity
The rooftop allows for line-of-sight to midtown Manhattan in the north, New Jersey data centers in the west, Brooklyn in the east, and the Financial District in the south.
"Our unobstructed, 360-degree vantage point atop 375 Pearl Street is an ideal location for enterprises that require wireless backup connectivity in the event of a fiber communications disruption, and ISPs such as Brooklyn Fiber that offer point-to-point service, as well as wireline connectivity," said Sabey President John Sabey.
Independent broadband ISP Brooklyn Fiber will offer antenna-to-antenna Internet connectivity to businesses and residences in Brooklyn using the antenna superstructure.
Mr Sabey said that Windstream and NuVisions are also clients, and that "our first customers are installing their equipment now."