Ryanair has signed a contract with Amazon Web Services, planning to close the vast majority of its own data centers by 2021 and move most of its operations to the public cloud.
John Hurley, the company's CTO, stated that the shift would allow the company to "transform" its customers' travel experiences – which have in large part been built on the basis of low cost, rather than high quality of service.
The only way is up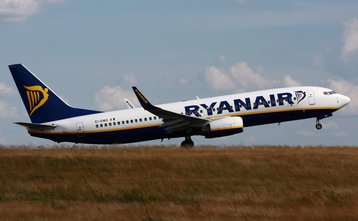 As part of its three-year standardization plan, Ryanair will adopt AWS databases, analytics, machine learning and deep learning services. It will also build a company-wide data lake on Amazon's Simple Storage Service (S3), which will allow it to stream customer and business data in real-time using AWS Kinesis.
The company will scrap its Microsoft SQL database in favor of Amazon Aurora, allowing it to run marketing campaigns "at a fraction of the cost."
The Irish low-cost airline already uses AWS to run its main website and its hotel booking service, Ryanair Rooms, and has started using AWS ML Solutions Lab as a platform to develop applications capable of identifying surges in demand for specific flights, and foreseeing any changes to flight schedules.
Among other things, the company plans to personalize the MyRyanair portal and use Amazon Lex to better direct customer support requests.
Hurley boasted Ryanair's pioneering support for Amazon Alexa, which can be used by customers to manage bookings, and make flight inquiries.