Russian nuclear power specialist Rosenergoatom has started construction of a massive data center that will serve an existing nuclear power station in the north of the country.
Once complete, the facility in the town of Udomlya could become Russia's largest data center, consuming up to 80MW to power up to 10,000 racks.
According to the Russian news agency Telecom Daily, around 10 percent of the data center capacity has been reserved for the state-owned company, while the rest will be available to commercial customers.
Rosenergoatom has previously approached Facebook and Google to offer space on the upcoming campus, in order to help the American companies comply with new data residency laws that require all foreign firms to store Russian citizens' data on Russian soil.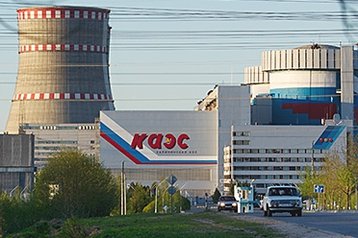 Power of the atom
Rosenergoatom currently operates ten nuclear power plants with 33 reactors, and plans to increase the number of reactors to 59 by 2030.
To support this expansion, the company has started building a large data center next to the Kalinin nuclear power station in Udomlya - a facility that produces a total of 4000MW across four power blocks. Naturally, the new data center will feed on nuclear energy.
According to an earlier report in Vedomosti, management of Rosenergoatom had to negotiate changes to the rules governing power prices in order to directly connect the upcoming server farm and the power plant, enabling the utility company to offer preferential electricity rates on the site.
The first phase of the data center is expected to open in March 2017, with the second phase coming online in the summer of 2018. All of the building work will be carried out by local contractor CHD Engineering.
The cost of the project has been estimated at approximately 6.4 billion rubles ($975m) – excluding the cost of IT infrastructure.
Analysts have suggested that a large data center would be the perfect customer to could burn through any excess supply of energy the Kalinin power station could produce.
It would also present an attractive site for Rosenergoatom to consolidate its IT resources – the company previously talked about data center consolidation plans but revealed no details.