Apple has decided to comply with the Russian data localization law which came into force at the beginning of September, while Facebook, Twitter and Google have been granted a delay until January 2016, according to reports.
The Russian telecoms authority Roscomnadzor decreed that Russian citizens' data must be kept within Russia, but large tech firms were only given about a year's notice of the requirement. Apple has responded by taking space in a local data center, according to sources quoted by news site Kommersant, while the Wall Street Journal has reported that the other giants have been granted till the beginning of 2016 before they have to comply with the rule - although they may intend to resist compliance with the rule indefinitely..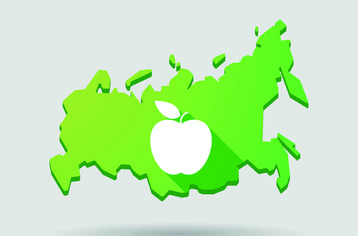 Data Homeland
Apple has booked into 50 IT cabinets at  IXcellerate, whose carrier-neutral Moscow data center already has major players including IBM in place.
The localization law has been a big headache for service providers, although it is obviously expected to be a boon to local data center operators, and the price of Russian data center space has risen dramatically,
Among recent responses to the law, the EN+ group owned by Russian billionaire Oleg Deripaska is set to build a $355 million data center in Eastern Siberia. The site will be one of the largest facilities of its kind in Asia, and will benefit from Siberia's cool climate and plentiful hydroelectric power .
The delay won by the social media giants is partly pragmatic. The Russian authorities are reportedly having their own troubles getting the staff and structures in place to actually enforce the law, with the Data Protection Report predicting they will begin the campaign by picking on small to medium-sized firms who have local offices.
Facebook, Google and Twitter, likewise have their own reasons for dragging their feet, and may resist complying at all. For one thing, they operate their own data centers running at maximum efficiency and will be reluctant to pay the extra costs of moving into colocation sites,
For another thing, all three have had run-ins with the Russian authorities in the past for refusing to censor their output by blocking sites which the Russian government does not like. Moving IT resources onto Russian soil may make this stance harder to maintain,