rPlus Energies has signed a 200MW power purchase agreement (PPA) with Idaho Power for Meta's Kuna, Idaho, data center.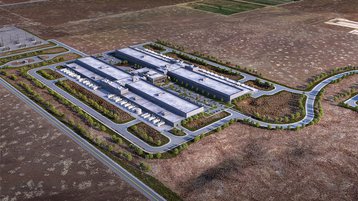 Known as the Pleasant Valley Solar project, the Ada County, Idaho solar farm will support the same grid used by Meta's Kuna data center.
"Meta is committed to minimizing our environmental footprint in the communities where we live and work, and central to this goal is creating, building, and running energy-efficient data centers supported by renewable energy," said Urvi Parekh, head of renewable energy at Meta. "One of the core factors in selecting Idaho for our new data center location in 2022 was access to renewable energy, and Meta is proud to partner with Idaho Power and rPlus Energies to help bring even more renewable energy to the Treasure Valley grid."
The engineering, procurement, and construction services for Pleasant Valley Solar will be managed by Sundt Renewables, while construction is anticipated to commence later this year.
Pleasant Valley Solar is reportedly the largest of its kind on Idaho Power's system. Idaho Power is aiming to run and provide 100 percent renewable energy by 2045. According to the company's website, 40 percent of its energy comes from hydroelectric dams, while 20 percent remains coal-based. The company says it will ditch coal power by 2030 and instead rely on solar and wind power supported by batteries.
"The sunshine is plentiful in Idaho – and we at rPlus Energies are proud to help the state achieve a commonsense approach to energy independence and utilize the abundant energy source to its full potential," said rPlus Energies president and CEO Luigi Resta. "The Pleasant Valley Solar project will play a critical role in supplying reliable and resilient renewable energy while also bringing strong economic growth and job opportunities to the state."
This is by no means a first for Meta, which has signed several significant PPAs over the past year. In April 2022, Meta signed a 156MW solar PPA in Texas, followed by a second in March 2023 for another 240MW of solar power in Texas. The company has similar solar PPAs in Ohio and Arkansas, as well as wind PPAs in Michigan, Iowa, and Oklahoma.
rPlus Energies is a renewable energy development company based in Salt Lake City, Utah. The company partners with other organizations to help them meet sustainability goals and improve access to renewable energy.